I like trays. I'm not 100% sure why but I am sure it has to do with their ability to corral clutter and make it seem semi organized.
Problem is, some of those decorative trays are a bit pricey.
Love this
one
, not the price.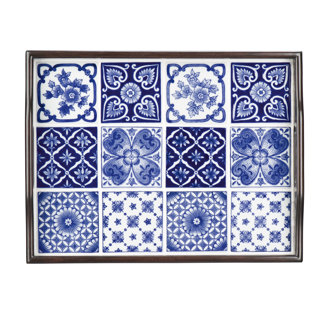 And this
one
, but again, not budget friendly.
So then I found this guy
here
Not fabulous or glamorous, but a fantastic blank slate begging for some creative love.
A little paint later and they were already looking better.
I knew I wanted to somehow line these trays with tile. While at the store searching for my options, I came across these, PEEL AND STICK TILE! I was in LOVE!!!!
Why was I so excited about this you ask? Two reasons. Firstly, they would be super easy to use. Peel, stick, DONE! I had planned on having to glue down the tile, so this would be saving me a good bit of work. Secondly, they were kinda exactly what I wanted, without knowing that I wanted them. None of the smaller tiles that I found and liked were working to fit in the tray. I knew the small 1 x 1 tiles I had come across would work but I didn't LOVE them. I wanted something with a little interest. These were that. They would be easy to cut to fit my tray and have more interest than the small tiles I found. WIN! In my cart they went.
Now here is how they looked with the first rough cut.
Notice the spots that I purposely cut larger than need be? Take two of this project I got smart and made the cuts to fit one large tile back in, wherever possible, instead of 4 or 5 little ones. Hey, I was impressed with myself.
I could have left them as is, they function just fine, I could have also grouted the tile ... LOL ... that wasn't going to happen. I opted for resin. Easier than grouting and I love the finished look of resin.
FOLLOW the instructions, coming from the girl who doesn't even read instructions, this is important. They aren't joking on those mixing instructions. Seriously!
Isn't she pretty?
Current use, as there is some sickness floating around our house.
I'm sure in the end she will end living a super glamorous life holding the cats water bowl or something of the like.
LOVE how these turned out. I bought three of theses trays as well as some from IKEA, keep a look out for those future projects.
Linked up over
here.